UET MEDIA LAB, the new laboratory for professional training of students
The professional training of the student can never be complete, if it remains only in the theoretical framework and does not pass to the practical and professional plane. For this reason, this new academic year at the UET Center in cooperation with UET comes with an innovation for the students of the Communication program, who will now have at their disposal the newest laboratory at UET, Media Lab, where they can recognize and develop more in this aspect of their professional training.
This project, supported by the Department of Humanities and Communication in cooperation with the Liberal Newspaper, was launched on Tuesday at the premises of Qebdres UET, in the presence of journalist Marin Mema, director of the Liberal Newspaper Ervis Iljazaj, Editor-in-Chief of this newspaper Arion Sulo, students and alumni of UET. Although the formalism of this laboratory took place in the form of a conversation to discuss and recognize the importance of practical training under the dictation of media professionals and the experience gained by students, in fact the foundations of this project were laid a few months ago.
Communication students with profiles in Public Relations, Journalism, Multimedia, Graphics-Design or Marketing came during the month of July with a cycle of articles on university experience and professional attitudes, which were published in the print and online version of the Liberal Gazette.
Already this institutionalized project, under a name, an environment and a clear perspective, will continue with new projects brought by the students themselves, which will be discussed, selected, implemented and concretized in the Media Lab, with tangible products and accessible to a wider audience.
The Head of the Department of Humanities and Communication of UET, Belina Budini expressed her satisfaction for the concretization of this project, while adding that students will have two facilities within the university to interact and realize their ideas and projects.
"I am very pleased that together with the coordinator of this project, that we have initiated and given a good laboratory form to this enterprise, this initiative, calling it UET Media LAB. The activity office has helped us a lot, they have always been ready and collaborated with the students, even before there was this presentation, label and environment like this, that you can use and another studio, which is a production, recording studio. , filming. This office will be available to students, to gather, to create that sense of community and to function in interaction with each other. "We have used our infrastructure to make it available to students," said Budini.
Media Lab, the practice that shapes journalists and media professionals
Media Lab aims to bring the missing practice to many of our educational institutions and give students an opportunity to become familiar with the media, the way they work and work. In addition to being a laboratory where projects are created and implemented, it will also serve as a kind of internship for Communication students.
For this reason, the journalist Marin Mema, as he narrated his professional journey, and the transition to several sectors of journalism, such as sports, social and political, to arrive as the host of one of the most original and most watched shows in our country, appreciated and emphasized this new opportunity that is created for students. According to him, a student of Communication and Journalism needs to exercise his hand and practice while studying, to be a good journalist the next day.
"What I call a fact to you that we did not have is that we did not have a great opportunity to exercise our hand, at least since we were in university. We never did practice. And to exercise the hand first, is a very good thing. Let no one think that things are immediately perfect. If I were to go back to my things in the beginning, I would never write them down. I still continue to watch documentaries, shows, because it is a thing that is perfected with time. Today fortunately things are very possible. Unlike in our time there were no opportunities, either for the internet or for Youtube, to see something different, to read more. "Today are very big opportunities", said Mema, as he singled out social journalism as a field for a better quality, creative and valuable journalism for the journalists themselves.
On the other hand, the representatives of the Liberal Newspaper emphasized the cooperation of the students with the newspaper, as a good opportunity for them to write and start the professional journey in the field of media.
The director of the Liberal Newspaper, Ervis Iljazaj, during his speech, focused mainly on the importance of the print newspaper, as a tool to learn journalism, as it functions as a real editorial office, when the opinion on issues and developments is matured and confirmed their authenticity.
"Since we are talking about cooperation with the Liberal Gazette, I want to tell you that the print newspaper in particular, is a good step to learn journalism. Because it is still reflective, as it were, the newsroom gathers at dinner, discussing what to write and what not, or on the veracity of the news. Meanwhile, during the day all the other platforms, online and digital, are in a hurry to catch the first news. And since they are in a hurry, they also make mistakes. In this sense, the print newspaper still remains reflective, so journalists sit down, discuss, do the right thing. They are an important instrument, and for me indispensable for the information as a whole and the importance it has for politics and democracy. In this aspect, it is a good opportunity for you to practice, especially in the print newspaper, because the thought and the way of writing are mature ", said Iljazaj.
The editor-in-chief of the Liberal Newspaper, Arjon Sulo spoke to the students about the importance of this profession, describing it as difficult and beautiful at the same time, which is not devalued by technological developments or the emergence of media and new forms of journalism.
"Journalism is one of the most difficult and beautiful professions. Even with studies it ranks in one of the 3-4 most difficult and beautiful professions. All stages of the development of journalism can not undo the news. So, the technological wave, the wave of social networks, radios, televisions, can not undo the news. The news will remain news and the journalist will remain a journalist. It is one of the most beautiful professions, because you have the opportunity to explore without being on a level with those people who write to you, so you can cover the prime minister and you are equal to the prime minister, without being prime minister, you can even pass it, why not even knock it down. That's enough to understand how important it is as a profession. As a profession, journalism is introduced in every other profession. It is the springboard for every profession. "You can not find in Albania people with more connections behind politicians than journalists", said Sulo.
They also expressed their support and help to be close to the students and to help them in their professional development.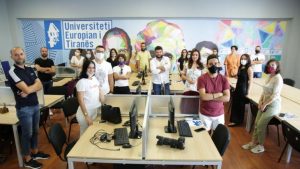 CONSULTANCY CONTRACT – BLUE_BOOST
UET Centre experts are impelementin a consultancy contract issued from the Albanian Developement Fund in the framework of the project "BOOSTing the innovation potential for the triple helix of Adriatic-Ionian traditional and emerging BLUE growth sectors clusters throught an open source/knowledge sharing and community based approach BLUE_BOOST" fiannced by the ADRION programme, which is a European transnational programme that invests in regional innovation systems, cultural and natural heritage, environmental resilience, sustainable transport and mobility as well as capacity building. In the framework of this contract our experts are implementing several trainings with several SME-s throught the Adriatic-Ionian coast in Albania. For more information please visit: https://www.albaniandf.org/projekte/projekte-ne-zbatim/blue-boost/
Project Coordinator
Kebjana Haka
[email protected]

IMPLEMENTATION OF ENVIRONMENTAL EDUCATION: RENEWABLE ENERGY
European Insitute Pashko has started working on the project "Implementation of Environmental Education: Renewable Energy" This project aims to demonstrate effective teaching methods for introducing different concepts of renewable energy and practical skills for secondary school students. Through active work, the student will not only have a better understanding of the fundamental concepts of different types of renewable energy, but will also be able to implement concepts in designing equipment and systems. During the implementation of this project: Students will be able to recognize the importance of alternative energy sources; Students will learn to measure the DC voltage output of a solar panel; Students will individually implement solar panel connections to power a 1.5 & 2V motor; Students will demonstrate how a solar panel reacts to direct and indirect solar radiation to produce electricity; Students will understand why solar panels should be oriented in the right angle of light source for maximum electric output; Students should be able to understand the transformation of radiant energy into thermal energy. The project is impemented by UNDP on behalf of the three GEF Imprementing Agencies – UNDP, UNEP and the World Bank and exectuted by UNOPS.
Project Coordinator
Kebjana Haka
[email protected]
YOUTH SOCIAL EMPOWEREMENT

European Institute Pashko is now implementing the "Youth Social Empowerment – Winter School" project focusing on the improvement of social inclusion of young people in Albania. This project will take place mainly in the city of Durrës and in Tirana but it will be represented with participants from all over the country. The overall objective of this project is the improvement of social inclusion of young people economically disadvantaged, youth at risk, minority groups (Roma or Egyptian) and marginalized young migration returnees by increasing their life skills and motivating to change their social cohesion. To improve the unemployment and emigration of the target groups by motivating and supporting them in acquiring qualifications on the job training and life skills; To create a connection between trained young people and employment opportunities. The project is financed by ARSIS Organizatë Shoqërore e Përkrahjes së të Rinjve
Project Coordinator
Megi Ruka
[email protected]
FROM M.E. TO E.U
FROM Migrants' Engagement TO Europe Upgrade, the project aim is to provide spaces and opportunities for European citizens and migrants' communities to work together in order to build up and share a new idea of a multicultural Europe. The concept of the project is that, beside formal citizenship, there are different ways and methods to involve people in the growing up of a society. Refugee communities are, as a matter of fact, a part of our population and will contribute, together with us, to the shaping of our future. For this reason, every migrant should be considered a citizen and every citizen could bring ideas, innovative approaches, participation methods to the community in which he lives. Our project FROM M.E. To E.U. will consist in a path of inclusion between citizens and refugees and migrants, fostering a mutual assistance through a peer-to-peer approach. The project will be implemented from January 2019 to June 2020. This project is financed by the Europe for Citizens Program of the European Union.
Project Coordinator
Kebjana Haka
[email protected]

INNOVATIONS PLATFORM AND TOOLS FOR INCREASING INNOVATION CAPACITY OF SMES IN THE BALKAN MEDITERRANEAN AREA
INNOPLATFORM aims at improving the competitiveness of the Balkan Mediterranean region by advancing existing knowledge on business model innovations and developing a set of tools (InnoTools) and services (InnoScorecard and InnoRegion) for improving SMEs opportunities, capacities, and knowledge in introducing product and process innovations. According to SME Performance Review (EC DG E&I), the Balkan MED region lags EU average when it comes to innovations in SMEs. The reasons are many, mainly related to the lack of knowledge and limited SME's access to tailored support, tools and better use of information and communication technology (ITC). Developed by 6 partners from 5 countries, and 2 observers, INNOPLATFORM aims to address these challenges by facilitating innovation and supporting the commercialization of innovation in SMEs. INNOPLATFORM started August 1st, 2017 and is expected to end July 2019. This project is financed by the BalkanMed Program of the European Union.
Project Coordinator
Kebjana Haka
[email protected]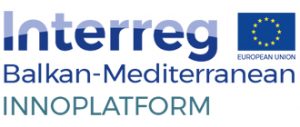 THE "FEMININE SIDE" OF QUALITY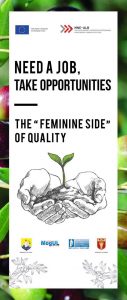 The overall objective of this project is to promote cross border cooperation on enhancement of employability through the empowerment of women as wage earners and job creators thanks to the support for valorization, promotion and preservation of local cultural potentials and identity with a focus on gender equality. This will be reached by using the agriculture potential in the municipalities and this implies usage of existing potentials for agricultural production and the tradition of organic production combined with contemporary methods and standards. The rationale of the foreseen activities is based on the presence in the area of reachable and favorable natural resources and climate as well as common cultural and historical potential residing in both parts of the programming area.
The project is funded by the IPA CBC Montenegro – Albania IPA Programme 2014-2020 and it is going to be implemented during 2018-2019 in the targeted area (Ulcinj, Montenegro and Lezha, Albania). This project is leading by the Municipality of Ulcinj and the project partners are: UET Centre, Monitoring Group Ulcinj MogUL and the Municipality of Mirditë in Albania.
Project Coordinator
Kebjana Haka
[email protected]
IMPROVING BUDGET TRANSPARENCY AT LOCAL LEVEL THROUGH SOCIAL AUDITING
Foundation for Economic Freedom (FLE) in collaboration with UET Centre will organize and deliver the workshops foreseen during the implementation of the project.
The project's overall goal is to promote transparency and compliance of local budgeting in the reformed municipalities after the June 21, 2015 local elections. The main objective of the project is to focus particularly on one key element; to increase transparency in the budgeting process at the local level through social auditing. Increasing the reliability and accountability of local government in cooperation with local civil society, to provide a clear analysis of the situation and performance of local institutions. This approach will encourage more open financial processes at the local level as well as more active citizenship. Specifically the project activities will focus on creating a hub in four municipalities (Malësi e Madhe, Belsh, Shijak and Roskovec) where citizens can monitor the promised and actual services and investments delivered at the local level.
This project is financed by U.S. Embassy Tirana.
Project Coordinator
Kebjana Haka
[email protected]